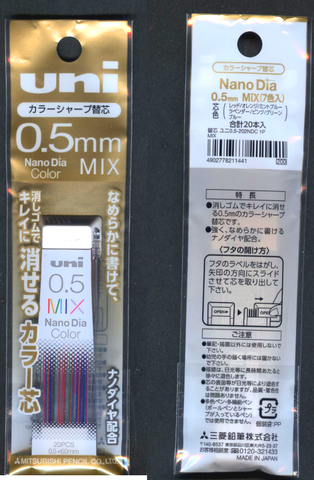 This is 0.5mm multi colored leads from Uni(Mitsubishi Pencil).
I blame for my carelessness.
I dropped this from 1 meter height.
I feel sad.
I planned to compare regular color pencils with this color lead, but I lost motivation to do it.
Once I often bought drafting mechanical pencils, I took bubble wraps to protect MPs.
Accidents due to carelessness…
Which color is only 2?
7 colors, 20 leads should mean 3 leads for each color, except a color.
Which color is less than others?
You might think it's obvious as it looks.
Actually no, color difference is little to judge it.
Blue + Lavender = 5 leads.
So blue or lavender is "uncommon" color in this tube.
↓I can't see middle one is whether blue or lavender.


With saturation adjustment, I can see it.
There's only 2 lavender leads.


Mitsubishi Pencil insists colormix contains 8 colors..?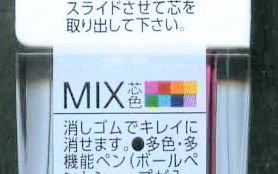 The back of lead case indicates 8 colors.
In fact, Nanodia Colormix doesn't contain Yellow leads.
Packaging film shows Nanodia Colormix contains 7 colors, but some stores sell this lead without film package.
e.g: Sekaido"世界堂" usually sells lead tubes without packaging film.
This might be confusing.